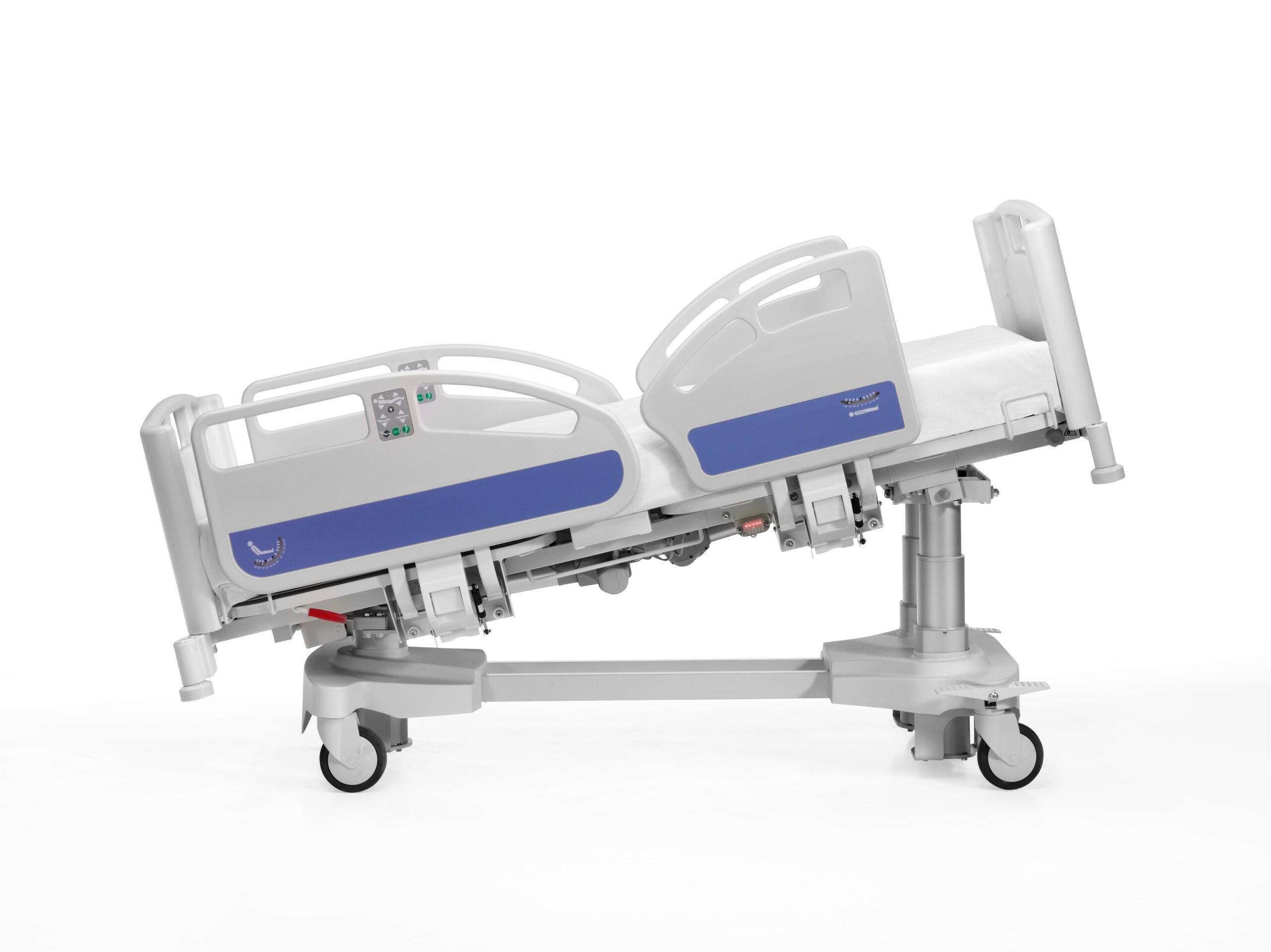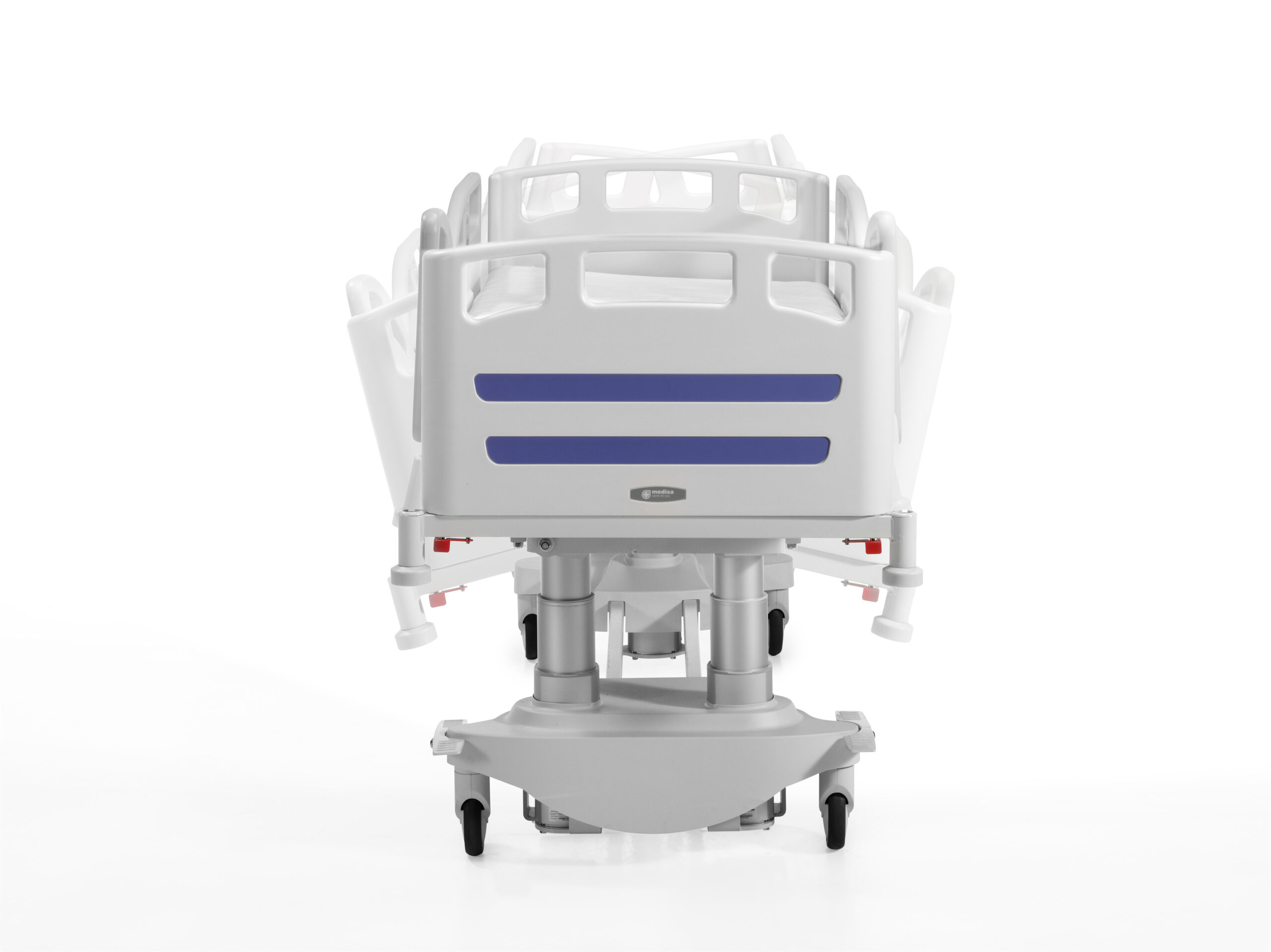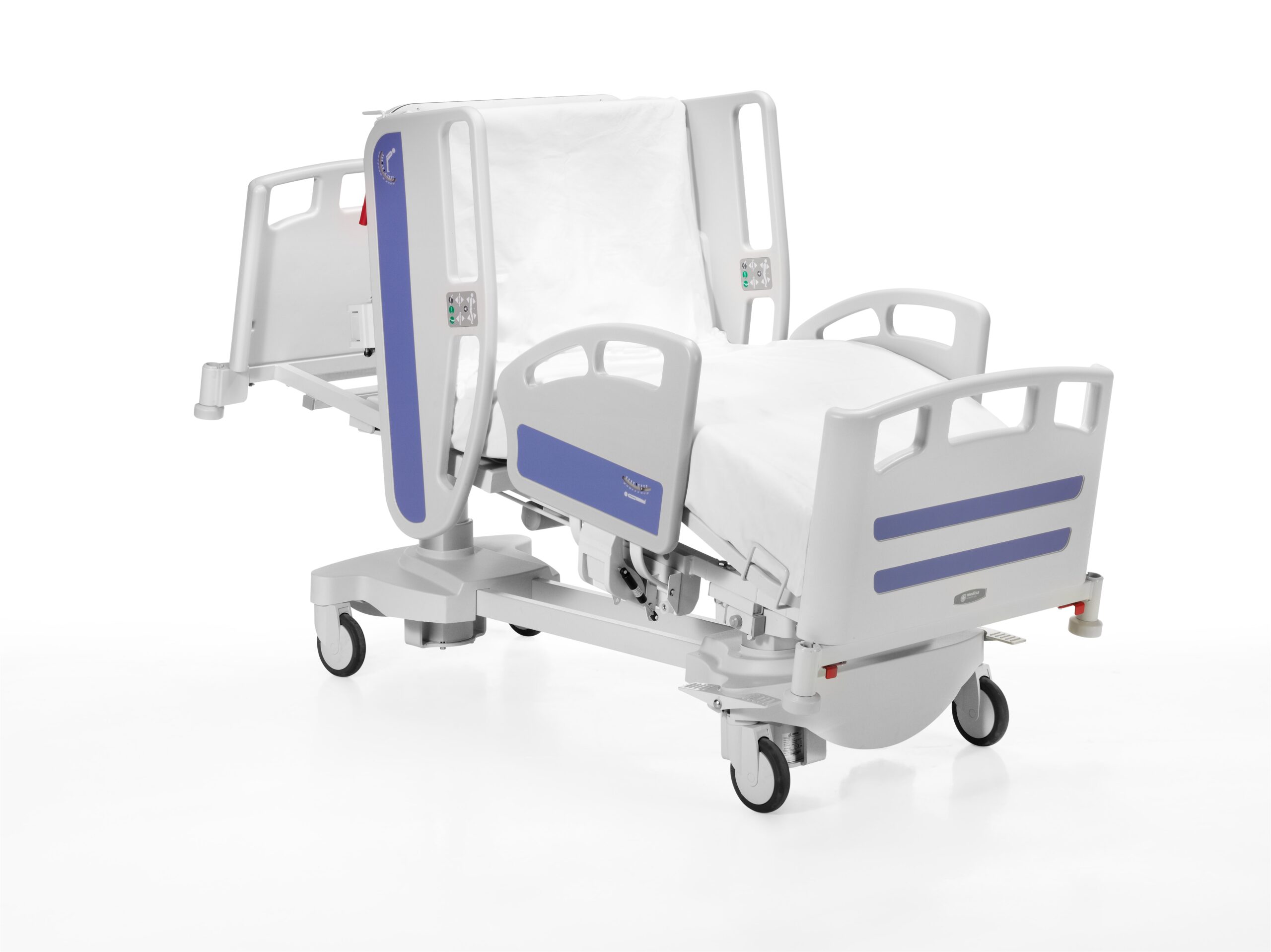 Hospital Furniture
Voltea
The VOLTEA hospital bed for intensive care has been developed to meet the highest demands that exist within the universal hospital environment.
Characteristics
Handling and control systems
Bed formed by four independent and removable modules, made of ABS
Useful area 100%
New ergonomic headboard/footboard design that makes it easier to hold the mattress, preventing it from moving
Fixing system with security lock
Adjustable side arches, which prevent movement of the mattress
Lifting systems supported by columns that provide great stability in any position and allow a load of up to 250 kg. Certified by SGS
Structure made of steel tube with epoxy coating
Movement management software
Tilt: All bed adjustments (flats, height, lateral tilt, trendelenburg and anti-trendelenburg) are carried out by low voltage electric motors
Automatic stop of the backrest at 30º
Lateralization position ±15º
Cardiac chair position
Four independent handrails made of HDPE, whose design is suitable to avoid entrapment
The design of the side rails allows the patient to be protected on the entire resting surface 100%
HDPE side rails have an integrated angle indicator
Automatic backup alarm at 30º
Medilift function: "help getting up" button
Radiolucent bed for the plane of the trunk with optional chassis holder
Integrated bed extension with bedding holder (±32cm)
Anti-decubitus system, with double automatic regression
Double LED safety positioning light: (green color indicates the minimum height and red when it is exceeded
Backrest section emergency release system (RCP position)
Bilateral panel for height adjustment (optional)
Brake pedal alarm (optional)
Low battery alarm
Thermoplastic lower fairing that protects the bed mechanisms and makes cleaning easier
Anti-pinch system with automatic engine stop when an obstacle is detected
Anti-collapse system in the lifting actuators in case of failure
Technical file
Technical data
External dimension: 2130 x 960 mm
Patients surface dimension: 2080 x 870 mm
Height adjustment: 470 – 780 mm
Backrest tilt: 70º
Legrest tilt: 32º
Trendelenburg/Reverse Trendelenburg: ± 16º
Lateralization: + 15º
Maximum weight load: 250 kg
Weight without accessories: 180 kg
Backrest auto-regression: 110 mm
Legrest auto-regression:70 mm
Electrical features
Power supply: 230-110V 50-60Hz
Maximum consumption: 1,6A, 350 Volt
Protectino level: IP66
Protection class: Class I
Degree of protection against discharge: B TYPE
Accessories
Included
Lifting Pole
IV Pole
Mattress
Optional
Integrated scale equipped with an integrated weighing system
Radiolucent bed for the trunk with chassis holder
Bilateral variable height pedal
Fifth wheel
X-ray support
Wheels not braked alarm
Normative
All products manufactured by MEDISA comply with directive 2007/47/EEC on medical devices (Annex I and Annex VII).
In the same way, all its processes have been evaluated and certified according to the requirements of the UNE-EN ISO 9001:2015 Quality Management standard, the UNE-EN ISO 14001:2015 Environmental Management standard and the UNE-ENE ISO 13485 standard. :2016 Quality Management of health products.
MEDISA products are subject to regulations EN-ISO 14971, EN-ISO 15223-1, EN-ISO 13485, EN 60601-1, EN 60601-1-2, EN 60601-2-52, EN 60601-1-6 , EN 60601-1-8, EN 62366.
Certified by CSQ: CERTIFICATES Nº 9120.MDIB, Nº 9191.MDI2, Nº 9124.MIBE.
Scope: design, manufacturing, marketing and technical assistance of hospital beds and chairs