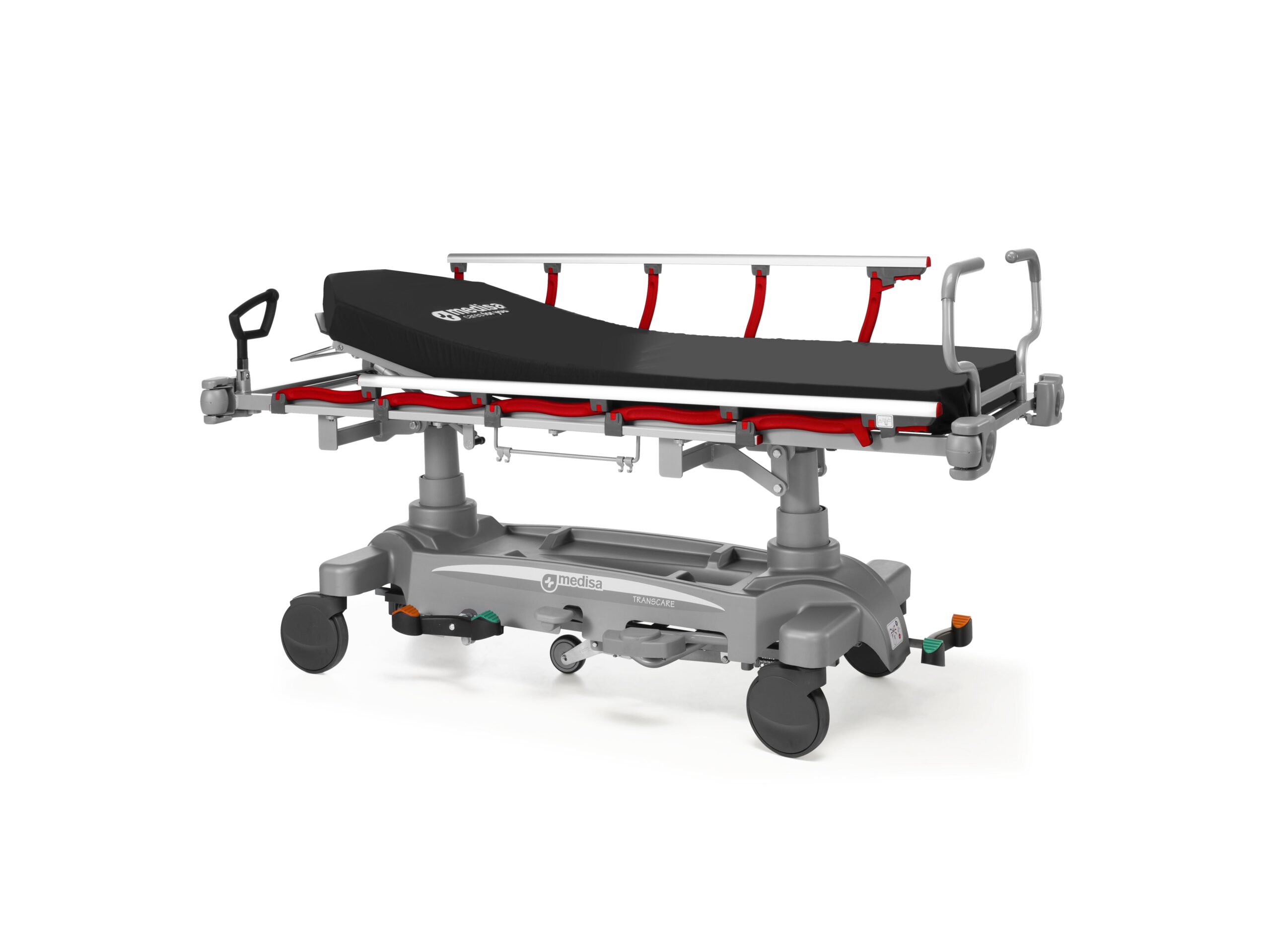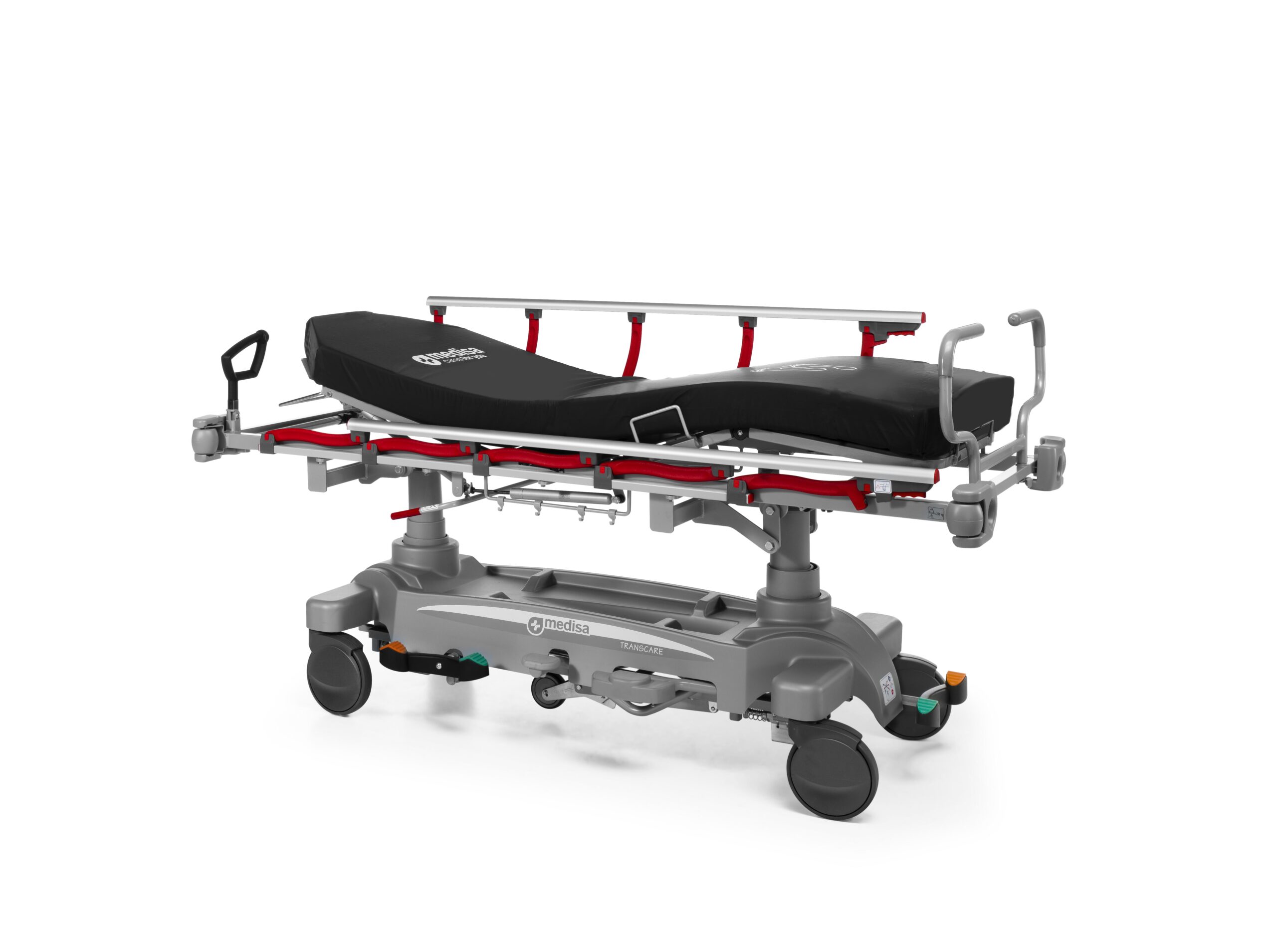 News
Hospital Furniture
Transcare 300
Developed to guarantee quick and safe transport of the patient, they offer the possibility of carrying out diagnosis and treatment directly on them.
Characteristics
Metal structure frame in steel tube with Epoxy coating
High quality and great resistance to chemical and mechanical agents, as well as cleaning products
Fully faired ABS base that protects the structure
Bed base lifting system supported by stable columns, with cylindrical trims to facilitate cleaning
Bed composed of 2 adjustable sections, made of compact HPL material
Fully radiotransparent bed base on the entire surface
The stretcher allows the incorporation of a chassis plate, for carrying out radiographic tests
Stretcher and padding completely latex-free
All movements of the stretcher are carried out by hydraulic or pneumatic drives
Manual trunk plane articulation by means of pneumatic operation at an angle of 90º
The low height of the stretcher allows greater comfort for patients
Height elevation from 625 mm to 935 mm with silent and continuous descent, using hydraulic columns
Synchronized height regulation system through hydraulic system
Urgent descent in case of CPR emergency
Trendelenburg, Reverse Trendelenburg ±16º by hydraulic drive powered by bilateral pedals
It has special foot levers for brake operation, directional lock and turning device
Stretcher easy to direct and stop
Four faired and antistatic wheels of 200mm diameter
5th 125 mm diameter directional wheel with gas spring guaranteeing greater precision of movements
Four brake pedals located at both the head and foot make it easy for one person to manipulate the stretcher.
Articulation of the trunk plane activated by a gas spring, with an inclination of 0 to 90º
The trolley allows the backrest to be quickly folded in case of emergency such as cardiopulmonary resuscitation (CPR).
Hydraulic lifting lever under the stretcher frame
Side protection strips and rotating bumpers
ABS lower fairing for easy cleaning, with built-in oxygen bottle holder
Folding side rails 150 cm long x 35 cm high
One-hand release and handrail locking system
Easy and safe handling, without risk of bruising or entrapment
Its lowest position does not exceed the height of the mat
Folding handles on the headboard and removable pusher on the footboard
Technical file
Dimensions
External dimension: 2120 x 890 mm
Patient surface dimension: 1900 x 690 mm
Backrest dimensions: 625 x 725 mm
Legrest dimensions: 660 x 1100 mm
Technical data
Height adjustment: 625 a 935 mm
Backrest tilt: 90º
Trendelenburg/Reverse Trendelenburg: ± 16º
Maximum weight load: 310 kg
Weight without accessories: 100 kg
Accessories
Included
X-ray permeable mat
Telescopic, foldable and adjustable IV pole with two hooks
Base adapted to oxygen cylinders of different sizes
Drainage bag holders
Optional
Monitor holder support
Paper roll holder
Chassis holder and cassette holder support
Padding for railings
Transfer mat
Medical records support
Patient straps
Normative
The product complies with the new European Regulation 745/2017 on medical devices and controlled under the EN ISO 9001:2015 quality management system.