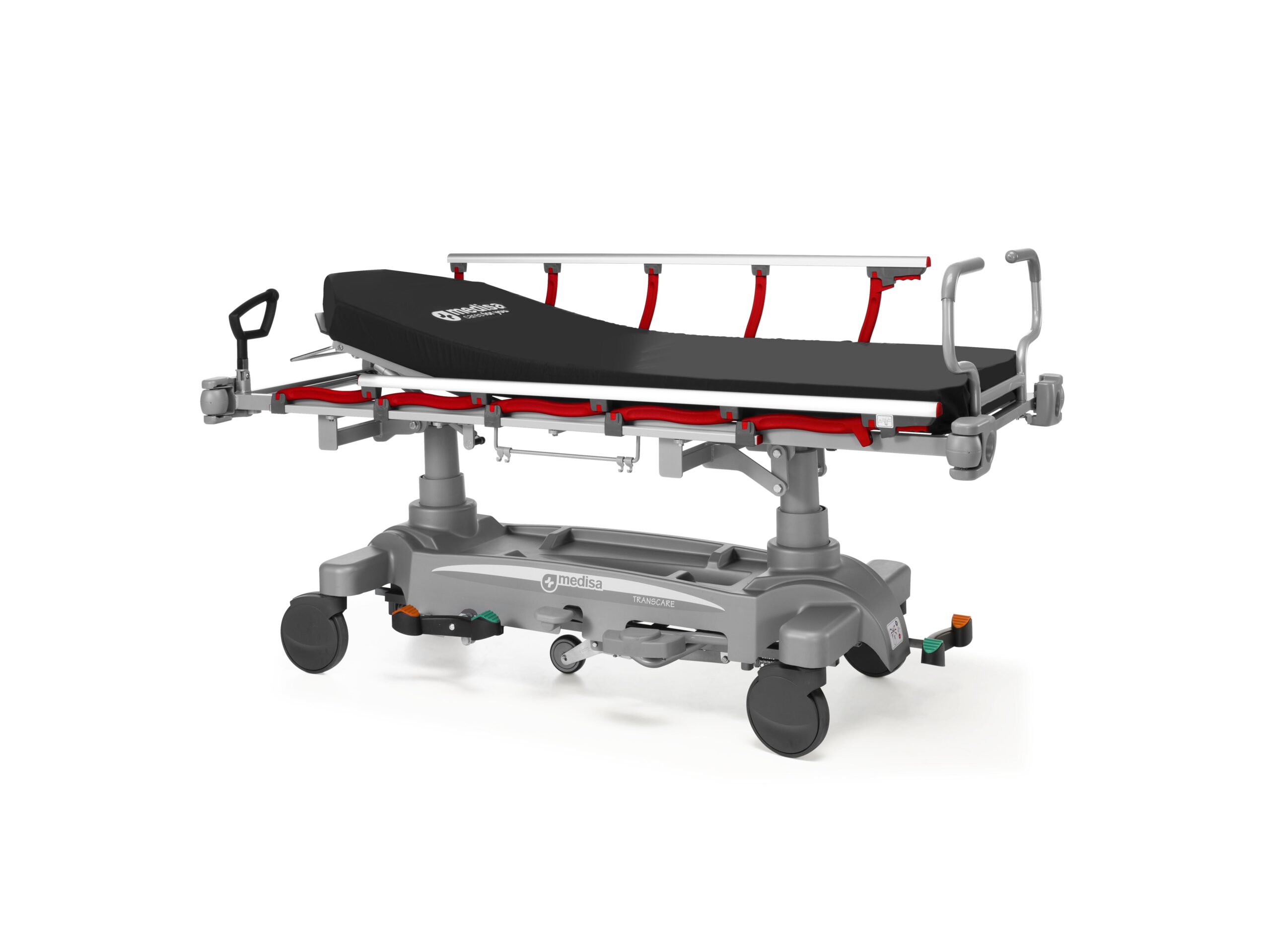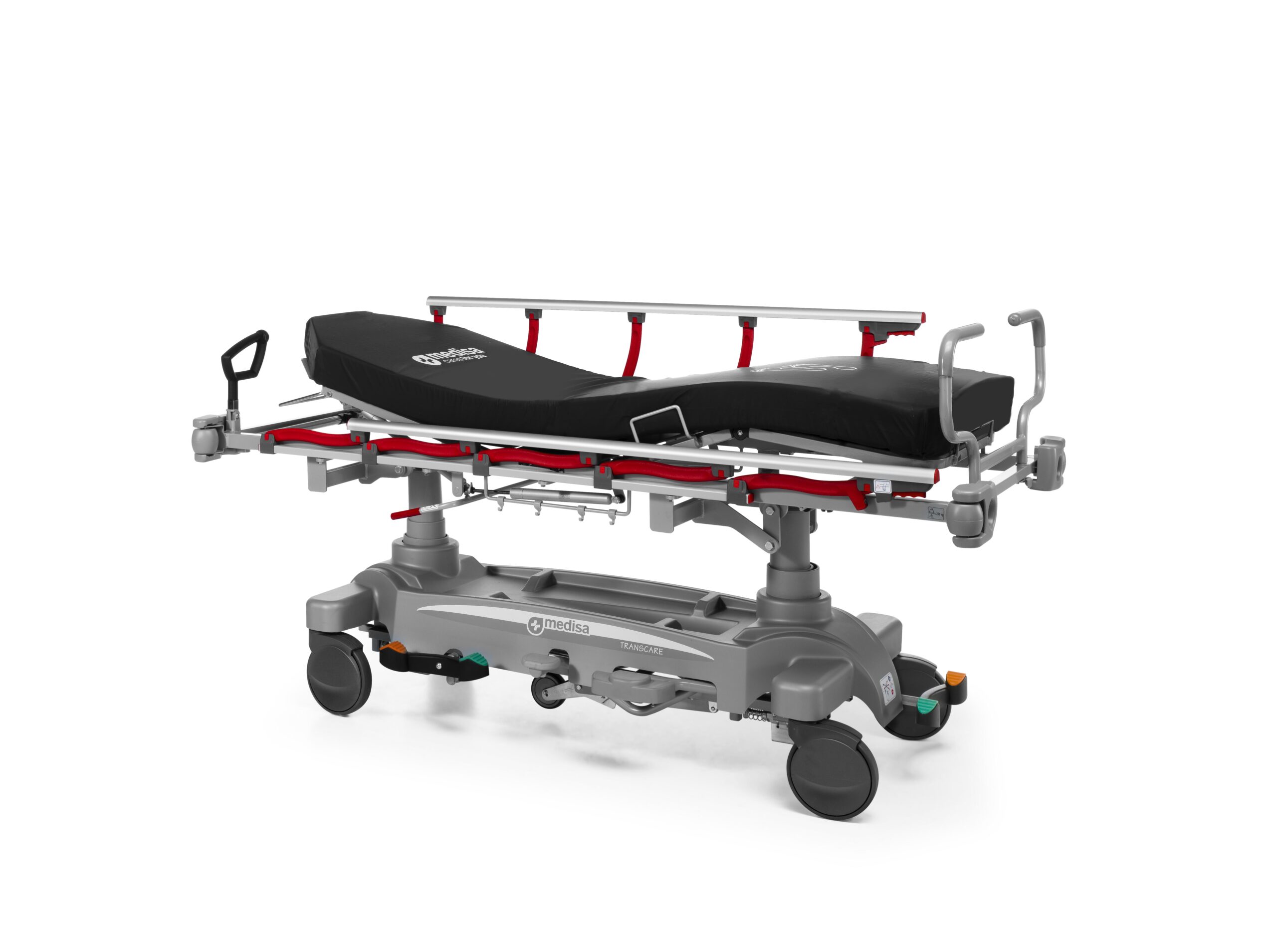 News
Hospital Furniture
Transcare 400
Developed to guarantee quick and safe transport of the patient, they offer the possibility of carrying out diagnosis and treatment directly on them.
Characteristics
Structure made of steel tube with epoxy coating
Bed composed of 4 sections (3 articulated and 1 fixed) made of compact HPL material
Resistant to moisture and impact, allowing simple cleaning with a cloth with soapy water
Cardiac chair position
Fully transparent radio bed base
Useful area 100%
Support for additional IV poles (depending on size) in the corners
Urine bag hooks on each side of the stretcher
X-ray permeable mat, 10 cm thick
Padding made of high-density polyurethane foam, designed for optimal comfort and ergonomic suitability
Upholstered in self-extinguishing vinyl fabric
With four 200mm diameter, antistatic wheels and a wheel with servo steering
Centralized brake and directional lock via pedal located on each wheel
5th wheel diameter 125 mm servo assisted with gas spring
Folding handles to facilitate handling of the stretcher during transfer
Articulation of the trunk plane by pneumatic operation up to an angle of 90º
Height elevation from 625 mm to 935 mm using hydraulic columns
Hip and leg articulation by means of gas springs by bilateral levers, which provides greater ergonomics
Trendelenburg / Reverse Trendelenburg ±16º by hydraulic drive
Bilateral pedal for hydraulic height adjustment and for Trendelenburg and Reverse Trendelenburg control
Protective bumpers located in the corners
ABS lower fairing for easy cleaning, with built-in oxygen bottle holder
Folding side rails 150 long x 34 cm high; 29 cm distance between vertical bars
Easy and safe handling, without risk of bruising or entrapment
Its lowest position does not exceed the height of the mat
Technical file
Dimensions
External dimension: 204 x 89 cm
Patient surface dimension: 189 x 68 cm
Backrest dimensions: 620 x 710 mm
Legrest dimensions: 660 x 1160 mm
Technical data
Height adjustment: 625 a 935 mm
Backrest tilt: 90º
Trendelenburg/Reverse Trendelenburg: ± 16º
Maximum weight load: 310 kg
Weight without accessories: 100 kg
*Factory tolerance +/- 1 cm
Accessories
Included
Mat
Stainless steel IV Pole
Optional
Monitor holder support
Paper roll holder
Chassis holder and cassette holder support
Padding for railings
Transfer mat
Medical records support
Patient straps
Normative
All products manufactured by MEDISA comply with directive 2007/47/EEC on medical devices (Annex I and Annex VII).
All processes have been evaluated and certified according to the requirements of the UNE-EN ISO 9001:2008 standard for Quality Management and the UNE-EN ISO 14001:2004 standard for Environmental Management, and the UNE-EN ISO 13485 standard for medical devices.
The product complies with the new European Regulation 745/2017 on medical devices and controlled under the EN ISO 9001:2015 quality management system.