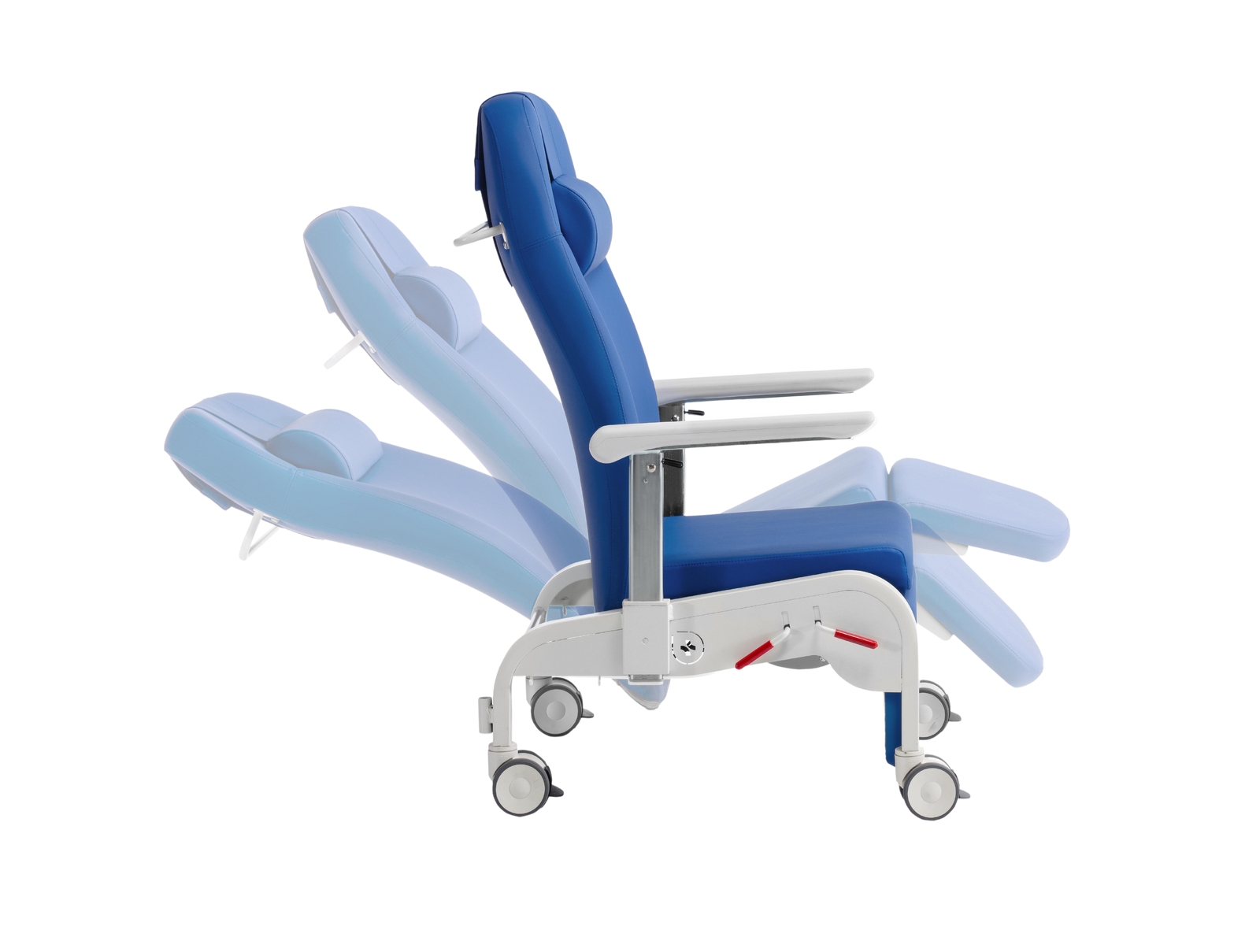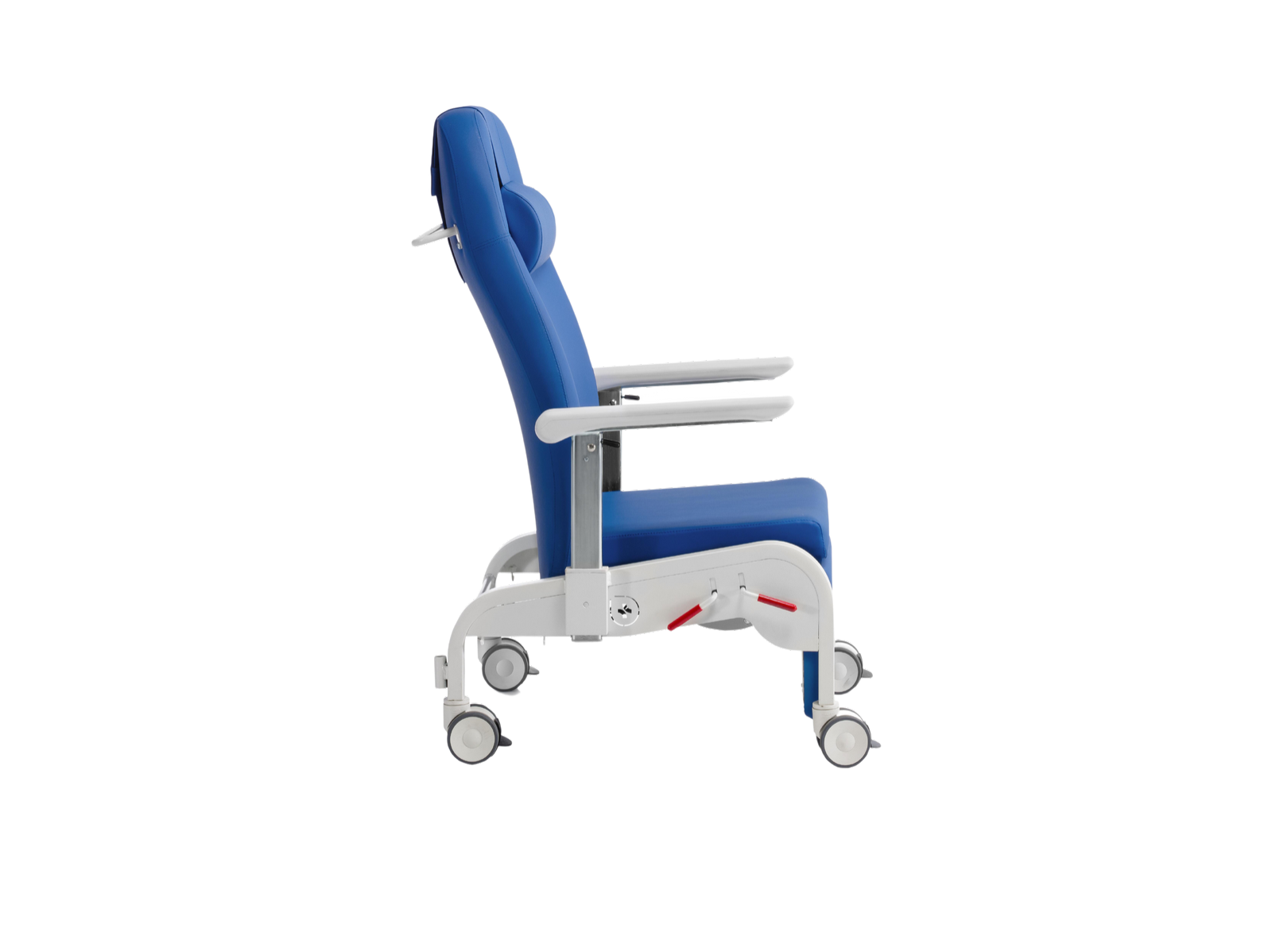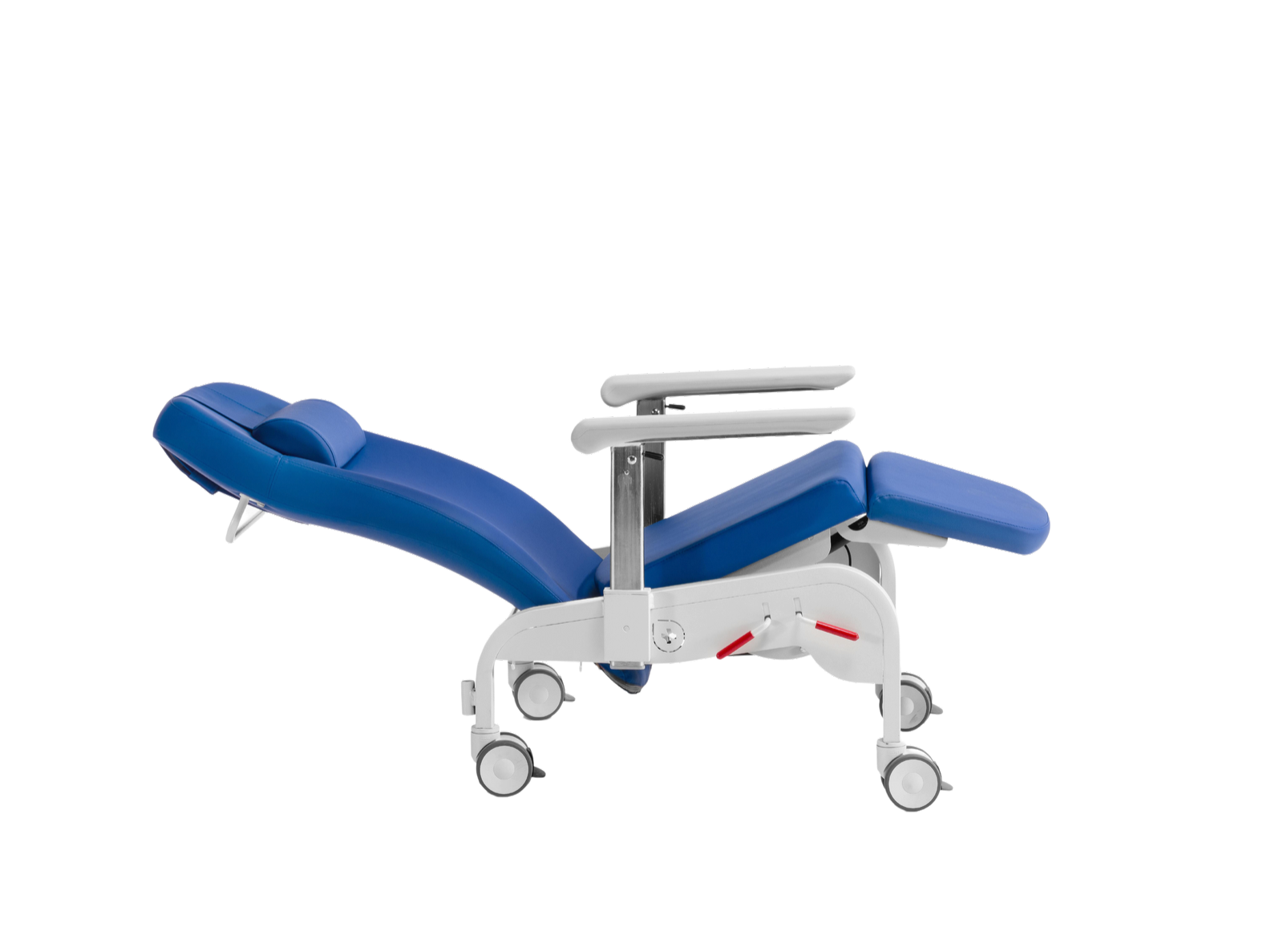 Hospital Furniture
Flow 4R
The ergonomic patient chair model Flow 4R is designed to guarantee the greatest patient comfort, due to its high performance, upholstery design and high quality components.
Catalogue
Declaration of conformity
Characteristics
Structure made of steel tube with epoxy coating
Incorporation of supports that allow the adaptation of accessories (IV Pole, hooks for drainage bags, etc.)
Independent adjustment for backrest and leg rest, activated by gas spring with "Bloc-o-Lift" system
It allows its operation in multiple positions and nailed in any intermediate position to guarantee an improvement of rest and patient comfort
Backrest tilting system and ergonomic design combined with seat movement
keeps the patient suspended in "zero gravity" avoiding pressures in the lower
back, pelvis and legs
Polyurethane armrests, height adjustable in five different positions by means of an
integrated button
Easy to clean and maintain
Height-adjustable, padded, removable headrest cushion for maximum comfort
Self-extinguishing vinyl fabric (according to standard M2. EN1021.1-2) antibacterial and resistant to absorption and stains)
The chair upholstery is made of high-density polyurethane foam, designed for optimal comfort and ergonomic adaptation
To facilitate its mobility, the chair consists of two back wheels of 50 mm diameter with double band with individual brake
It is equipped with four wheels of Ø 125mm, diameter, a directional wheel, its ABS construction is armored and anti-lint
The legrest is folding to zero position and scalable under the seat, which allows and does not hinder access to the armchair
Centralized braking system 
Anatomical backrest of tall size, 84 cm and with lumbar reinforcement
All edges are rounded without sharp surfaces
Seat tilted towards the backrest to prevent patient displacement towards before
Transfer handle on the backrest for easy transport
Height-adjustable headrest cushion, padded, removable, for maximum comfort, high density padding 30 kg/m3 and 75mm
Seat that guarantees great resistance
Smooth surfaces and compact material allow for quick and easy cleaning and decontamination
It is made of materials that guarantee high long-term resistance, minimize the risk of infections and reduce cleaning time
Technical file
Technical data
Extended dimensions:  1225 (alto) x 710 (ancho) x 810 (fondo)
mm 1650 mm
Backrest dimensions: 840 (alto) x 510 (ancho) mm
Seat dimensions: 520 (ancho) x 490 (fondo) x 520 (alto) mm (con rueda 125 mm)
Legrest dimensions: 520 (ancho) x 490 (fondo) x 520 (alto) mm (con rueda 125 mm)
Electrical features
Extended footrest:  290 – 350 (ancho) x 220 (fondo) mm
PUR armrest dimensions 70 (ancho) x 490 (fondo) mm altura 530-735 mm
Maximum load : 180 kg
Aproximated weight without accessories: 45 kg
Backrest angulation: 85º – 180º
Accessories
Optional accessories
Auxiliary tray
Roll Support
Included accessories
IV Pole
Bilateral supports for urine bags integrated into the structure of the chair
Normative
The product complies with the European Regulation 745/2017 on medical devices and controlled under the quality management system EN ISO 9001-2015.