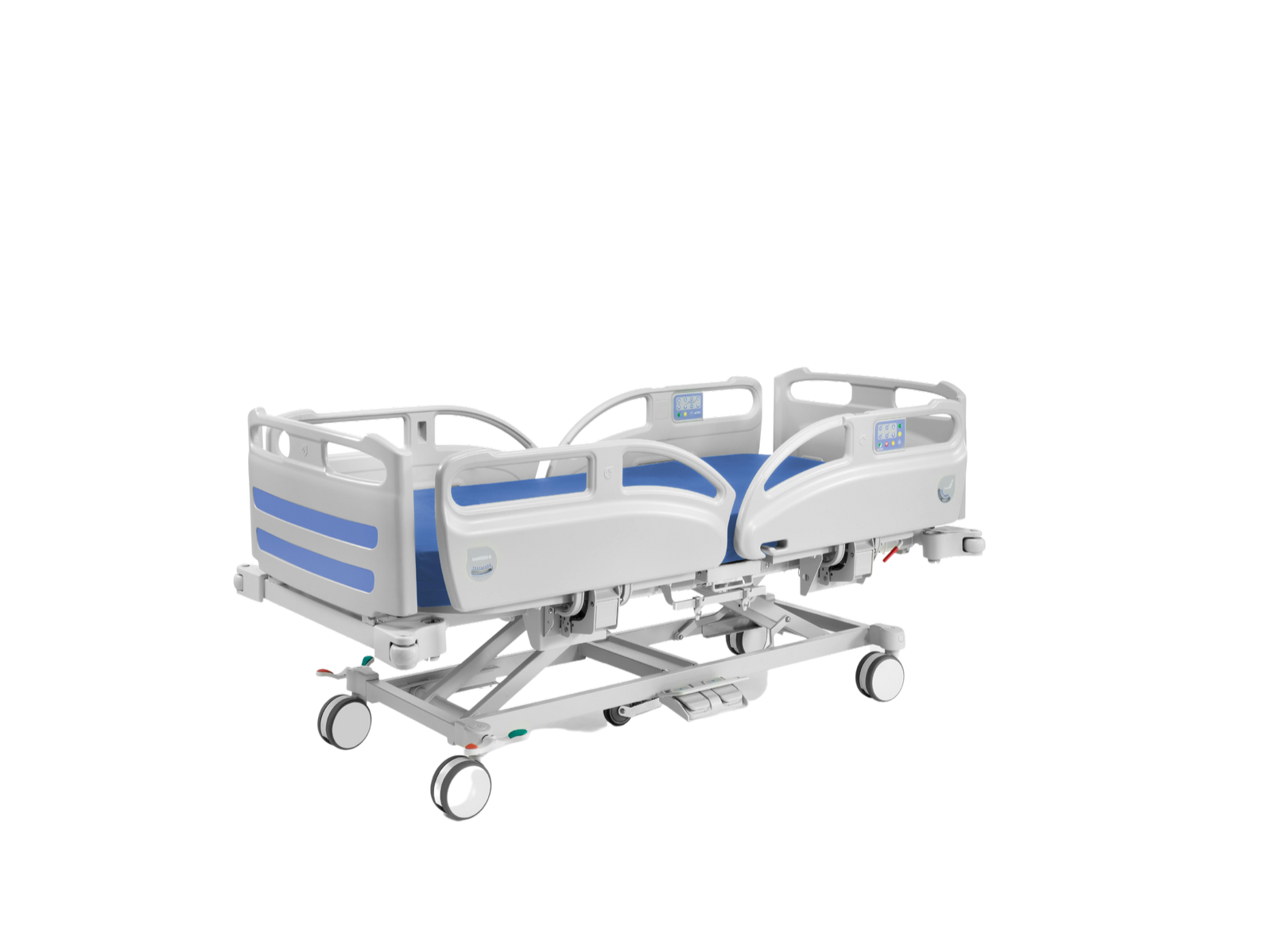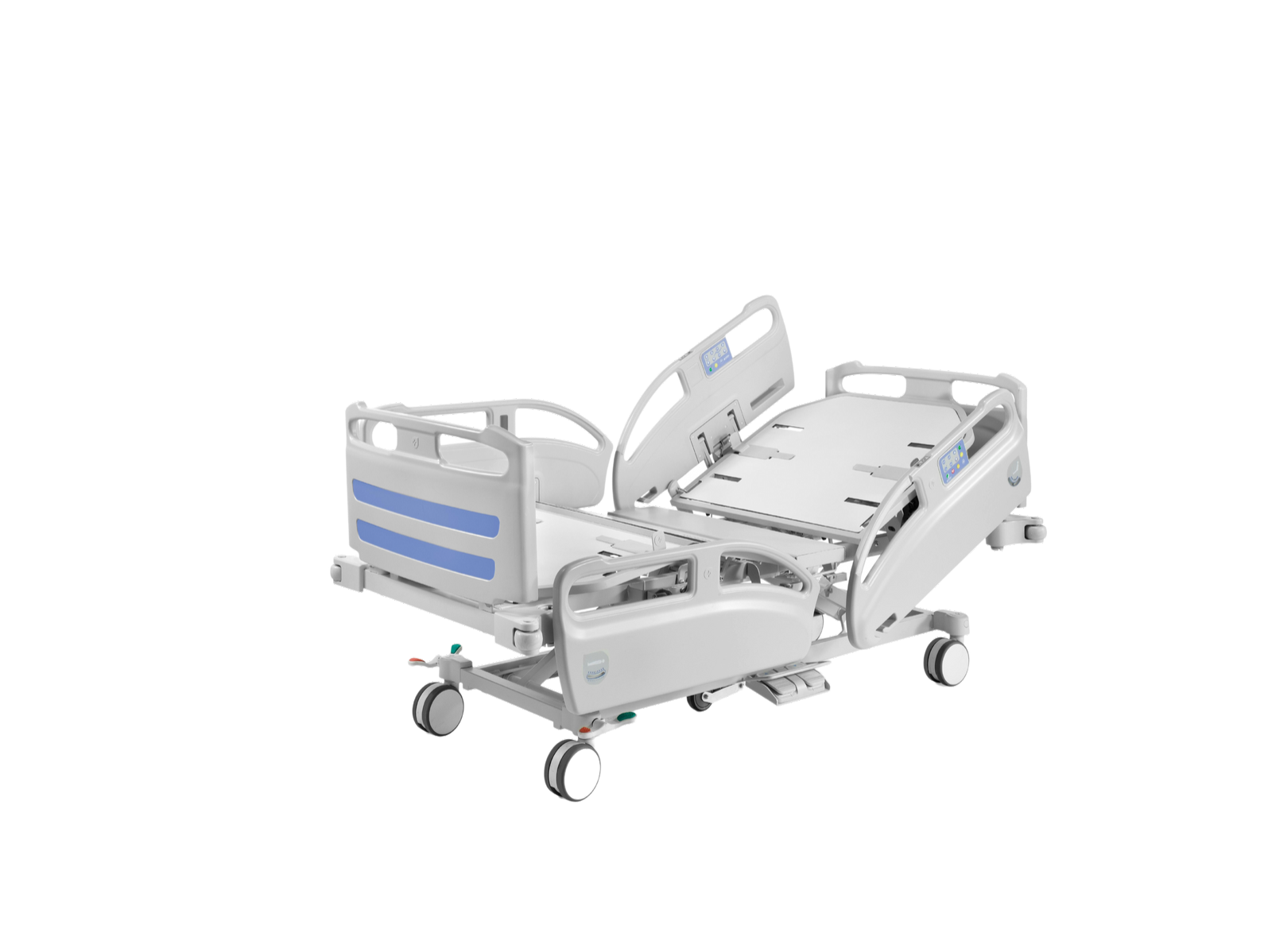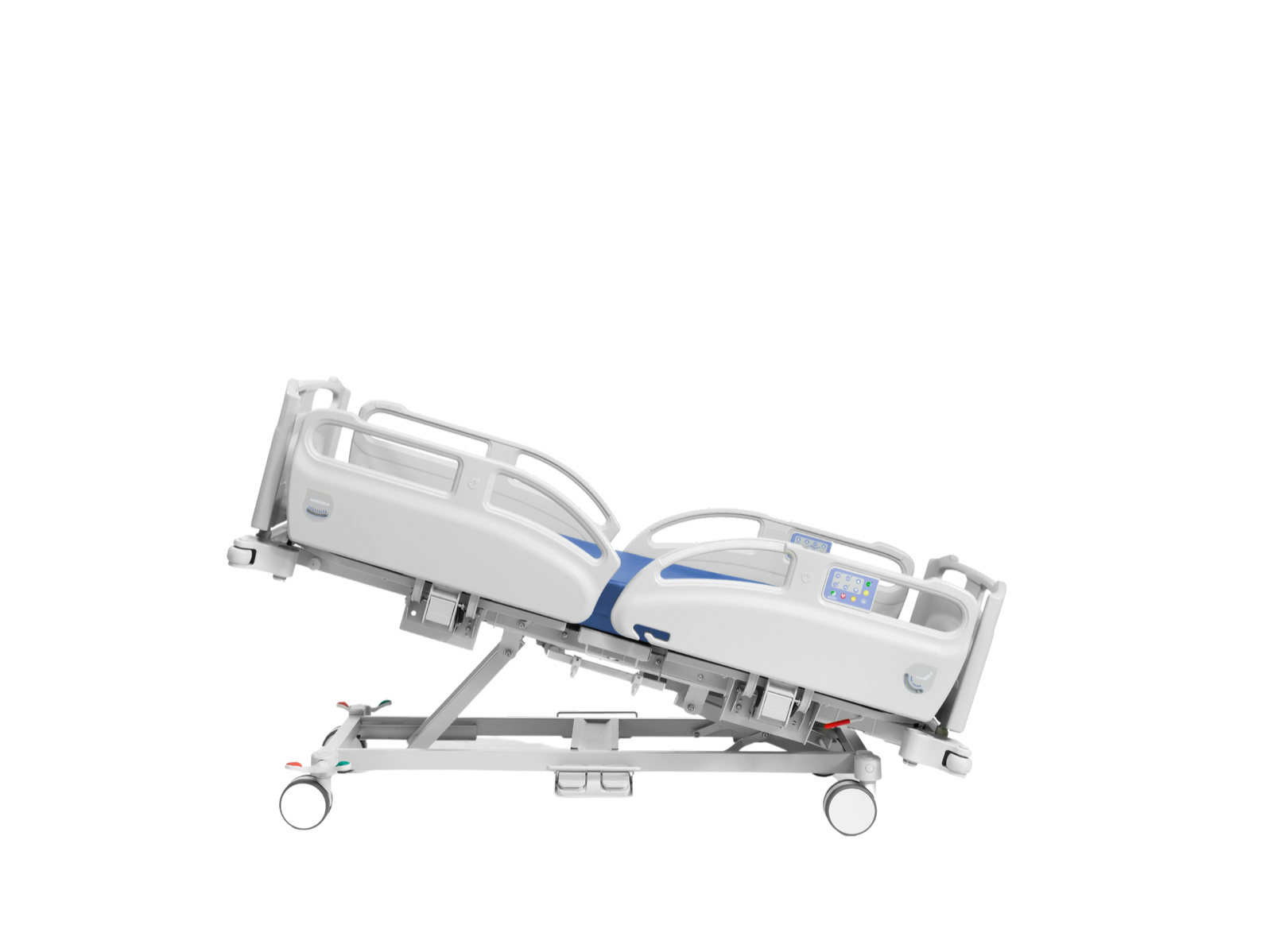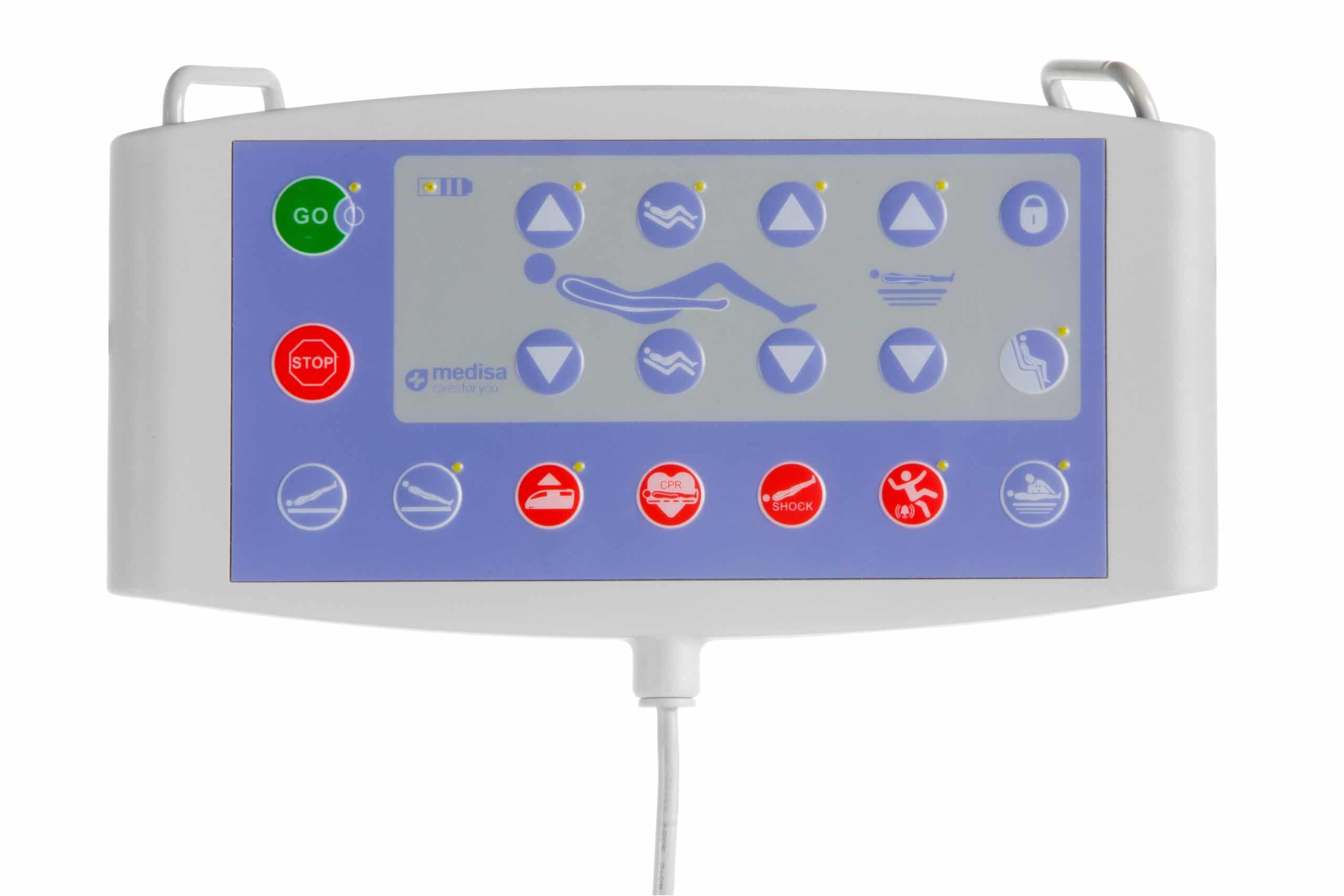 Mobiliario hospitalario
Galaxy 3
The GALAXY 3 bed has been developed to satisfy the highest demands in the global hospital sector.
Characteristics
Handling and systems control
Epoxy coated steel tube frame.
New design for headboard and footboard that improves mattress retention, preventing its displacement. The fixing system to the structure allows detaching them easily without tools.
Complete with supports for accessories (IV pole, lifting pole,etc. ) on each corner of the bed.
Scissor-lift raising system for greater stability in any position and working load up to 250 kg. SGS certificated.
Bed base with four independent and detachable HPL lying sections. Useful surace 100%.
Adjustable side retainers that prevent displacement of mattresses of different sizes.
Four independent HDPE Medical side rails in accordance with standard rule EN 60601-2-52 with gas spring assist and one hand operation
Side rails with an innovative mechanism that requires minimal folding, no more than 7.5 cm
The design of the side rails allows protecting the patient in the totality of the lying surface
"Help to stand up" button. It allows optimizing the sequence of the patient's exit from the bed by simply pressing the button integrated in the rail
The bed has two blue LED light points integrated in the rail that are activated when it is lowered
Automatic alarm of the backrest at 30º
Double automatic anti-decubitus regression system to allow a backplane regression (15 cm) and leg regression (7 cm)
Guides to insert RX cassette (optional Ref.CHV26) on backrest
Sections, height and trendelenburg / reverse trendelenburg adjustment accomplished by low tension motors electric motors
Independent foot angle from knee angle by mechanical activation of 5 positions providing a greater ergonomics
Cardiac chair position to provide a more comfortable patient stay
Exit position button, that easies the patient to leave the bed
Functions can be locked individually or in a simultaneous way through "STOP" button
Central braking system and steering facility
5th wheel (optional Ref.CHV24), Ø125 mm. 360º rotating with gas spring that adapts to uneven ground
Panel for medical staff, it allows to activate and cancel the different functions of the bed
Patient handset (inside rails): Allows patients to control and regulate the sections of the backrest, back/foot and height, activation of the "GO" button and the night light under the bed
Emergency release system in the event of electrical or battery back-up failure (CPR position)
Bilateral pedal for height adjustment. Allows adjust height to reduce harm risks
Double led safety positioning light (green color to indicate minimum height, red when it exceeds minimum safety height)
Braking pedal alarm: When the bed is connected this alarm warns if the braking system is deactivated
Low battery alarm
Data sheet
Technical data
External dimensions: 2233 x 980 mm
Patient surface: 2000 x 850 mm
Height adjustment: 395 – 775 mm
Backrest tilting: 67º
Legrest tilting: 28º
Footrest tilting: 19º
Trendelenburg/reverse-trendelenburg: ± 16º
Maximum working load: 250 kg
Weight without accessories : 150 kg
Backrest autoregression: 150 mm
Footrest autoregression: 70 mm
Electrical features
Power supply: 240-100V 50-60Hz
Maximum current intake: 5A, 100-240V
Protection indicator: IP66
Class protection: Clase II
Electric shock protection: TYPE B
* Posibility to reduce overall width (consult)
* Tolerance ±1 cm
NOTE: Measures and features of the products may be changed without prior notice
Accessories
Optional accessories
Linfting pole (REF. CHA17)
IV Pole (REF. CHA15)
Mattress
Optional equipment
Bilateral pedal for height adjustment / exam position (REF. CHV83)
Fifth wheel (REF. CHV 24)
Brake alarm on / off (REF. CHA30)
X-RAY cassette support
Normative
All products manufactured by MEDISA comply with Directive 745/2017 on medical devices
Certificates according UNE-EN ISO 9001: 2015 standard for Quality Management,  UNE-EN ISO 14001: 2015 standard for Environmental Management and  UNE-ENE ISO 13485: 2016 standard for Quality Management of medical devices
MEDISA products are subject to EN-ISO 14971, EN-ISO 15223-1, EN-ISO 13485, EN 60601-1, EN 60601-1-2, EN 60601-2-52, EN 60601-1-6, EN 60601-1-8, EN 62366.
Certified by CSQ: CERTIFICATES Nº 9120.MDIB, Nº 9191.MDI2, Nº 9124.MIBE.
Scope: design, manufacture, marketing and technical assistance of hospital beds and armchairs. Marketing of hospital furniture.