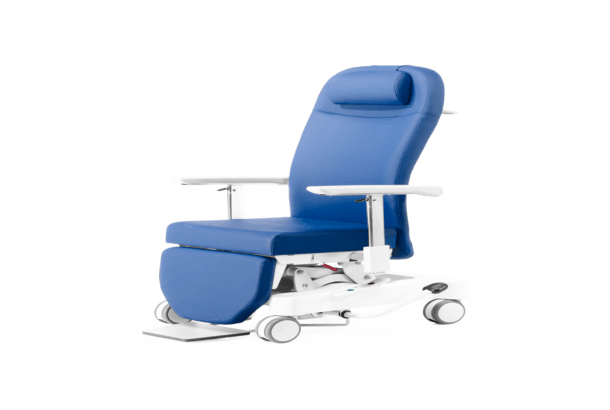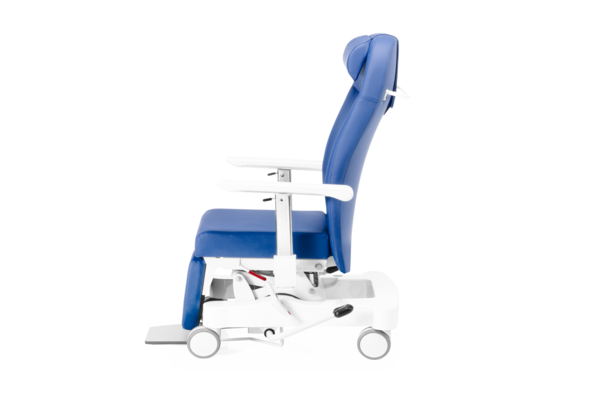 Hospital Furniture
Flow Hi Low
Chair for patient and companion with hydraulic elevation and footrest
Characteristics
Structure made of steel tube with epoxy coating
Possibility of incorporating support for IV pole
Synchronized movement of the backrest and legrest activated by a gas spring
Combined seat tilting system that keeps the patient suspended in "zero gravity" avoiding pressure in the lumbar area, seat and legrest
The rounded front part of the seat stimulates blood circulation
Seat inclined towards the backrest to prevent the patient from moving forward
High-size anatomical backrest, with high-density polyurethane foam padding
Upholstered in self-extinguishing vinyl fabric
Height-adjustable, padded, removable headrest cushion for maximum comfort
Armrests made of PUR and adjustable in height in five different positions using an integrated button
Hydraulic height adjustment via bilateral pedal
Patient transfer handle, ergonomic and made of steel tube with epoxy coating
Equipped with four 125 mm diameter double band wheels with centralized brake
Its ABS construction is armored and anti-lint.
Accessible for crane from the front and for waiter tables
Technical file
Dimensions
External dimensions: 1410 x 735 x 800 mm
Long extended position: 1680 mm
Backrest dimensions: 840 x 510 mm
Legrest dimensions: 510 x 340 mm
Seat dimensions: 510 x 540 x 540-795  mm
Armrest dimensions: 70 x 490 mm
Datos técnicos
Height adjustment: 540 – 795 mm
Backrest tilt: 85º – 180º
Maximum weight load: 180 kg
Weight without accessories: 45 kg
Accessories
Normative
All products manufactured by MEDISA comply with directive 2007/47/EEC on medical devices (Annex I and Annex VII).
All processes have been evaluated and certified according to the requirements of the UNE-EN ISO 9001:2008 standard for Quality Management and the UNE-EN ISO 14001:2004 standard for Environmental Management, and the UNE-EN ISO 13485 standard for medical devices.
MEDISA products are subject to regulations: IEC 60601-1, IEC 60601-1-2, IEC 60601-2-52
Certified by Bureau Veritas.
CERTIFICATES Nº ES047196-1 / ES047195-1
Scope: design, manufacturing, marketing and technical assistance of hospital beds and chairs. Marketing of hospital furniture.